Aurora DM-310
Inline Non-Contact Emitter Sheet Resistance Measurement
The DM-310 accurately and reliably measures emitter sheet resistance inline at full production speeds. The sensor uses safe reflected infrared light to produce high-resolution characterization of emitter sheet resistance from edge-to-edge on a wafer.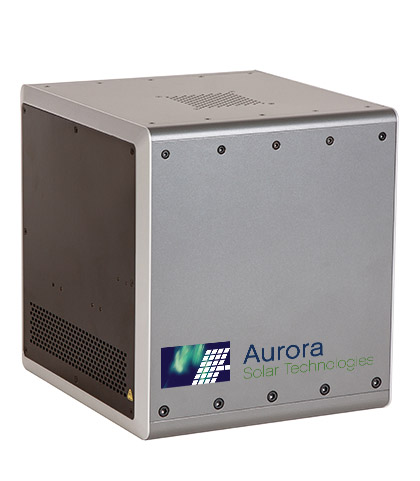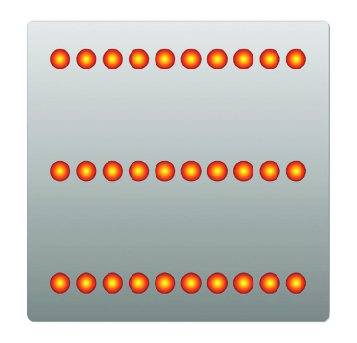 DM-310 Measurement Pattern
Description
The DM-310 measures the emitter sheet resistance within crystalline silicon photovoltaic (PV) wafers. This innovative product is the industry's most accurate and reliable measurement tool that characterizes diffusion and annealing process results. The Decima 3T measures sheet resistance at a series of discrete points along three tracks on each wafer such that intra-wafer uniformity can be characterized for each and every wafer produced. Its patented technology provides accurate real-time measurements for process control and optimization.
The system can connect to Aurora's Visualize™ quality control system for integration of measurements with process tools to provide real-time 3D visualization of intra-furnace dynamics, both spatially and by batch. This enables optimization of diffusion and annealing processes.
Features
Non-contacting continuous TCO sheet resistance and thickness measurement
Three measurement spots enable simultaneous measurement of three tracks on each wafer
Designed for 100% wafer measurement up to 5000 wafers/hour
Rock-solid long term measurement stability
Encoder controlled measurement triggering
Highly accurate and repeatable
Compact and easily installed
Benefits
Allows true characterization of both short and long term furnace behavior
Provides emitter uniformity characterization along and across wafers
Eliminates operator error and inconsistencies in offline measurement
Minimizes wafer damage caused by handling and four-point probe contact measurement
Reduces labor costs associated with offline sampling and SPC charting
Rapid payback
Specifications
24 VDC (Provided by DM-Hub)
Remote Maintenance Interface